RADIATORS FROM VIESSMANN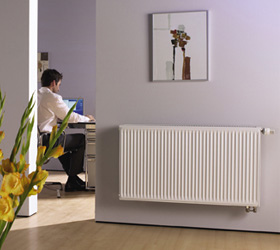 Universal Radiators come in a wide variety of models for different applications. They are high quality with an elegant white plastic coating. They are easy to install, and can be fit into existing homes. The grille is easily removable for cleaning.
Flat Panel Radiators come in a variety of models as well, and are quite easy to clean, making them an attractive choice for those suffering from allergies. They are exceptionally aesthetic, and easy to install.
Bathroom Radiators feature an elegant slim pipe element design. They are easily set up as hydronic or electrical heating systems, and can be used as room dividers.