RADIANT HEATING IS BEST FOR HOME COMFORT
Conventional heating systems do not compare to the comfort and efficiency of radiant heating. The underfloor heating system is the absolute best for comfort, safety, reliability and efficiency.
Unlike forced air heating systems, radiant heating produce a clean, quiet and uniform heat around the entire room and house. All cold surfaces are transformed into heat omitting objects.
The radiant floor heating method eliminates air drafts and does a good job of limiting heat loss. Heating is uniform across the room, and luxurious from head to toe.
Heating that's not only more comfortable, it's more efficient.
See why more and more people are making the switch to underfloor heating systems. Radiant floor heating is one of the best ways to provide stable and comfortable heat to your home.
If you're looking for Vancouver heating solutions, look no further. Our services are not only less expensive than larger companies, we give our customers an attention to detail and service that is excellent. When we say we'll be there, we're there, at the time and in the schedule we promise.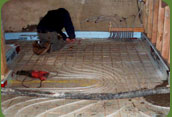 Ideally, radiant floor heating is installed when building a new house or remodeling.
The pipes are laid down first, and then concrete poured on top of them. However, if the floor is already installed, there are options for retrofitting houses with floor heating. Call for details.
UNDERFLOOR VS FORCED AIR HEATING
Heating is dispersed through the entire house when using radiant floor heating. Rather than warming up the air, the process involves warming up objects, which saves considerably in costs and provides for a well-balanced air temperature. See the diagram below.